I was counseling a candidate I placed on how to resign and I realized that I had never posted this important information.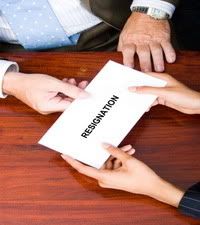 There is actually a proper way to resign.
Resigning is never easy, especially if your company has been good to you or if you and they are very busy.

However, the best way to do it is to go to your supervisor, swallow hard, take a deep breath and simply state that you have accepted a new job. You must do this assertively and without hesitation. If, while resigning,

you hem and haw, you are communicating lack of commitment and assurance, which could be taken as a sign that you are looking for a counter offer.
Without getting into a long dissertation on
counter offers
, which I have previously written about, suffice to say that 90% of all people who accept a counter offer are gone within twelve to eighteen months – mostly not by their choice.

Counter offers are always for the convenience of the existing company. So, if you are looking for a new job in order to get a raise or promotion from your existing employer, it is a very bad tactic and will only have a short term effect.
Accepting a new job is giving your word and your word should be kept.
It is important to thank the person you are resigning to for the opportunity to have worked there, but to explain that you have a accepted a new career opportunity.

By doing it as a statement of fact, you make it clear that you are leaving and not looking to negotiate. You do not need to offer a long explanation as to why you are leaving or what your new job entails. The less said, the better. Your manager should react gracefully and positively.
Most managers will be positive and supportive, but I have heard stories about those who react badly to resignations.

A common response is to lash out. Some managers react selfishly, "You can't do this now.

Who is going to do the presentation [or analysis, or project] in two weeks?"

What this means is that the manager will have to do the work herself or himself.

Ironically, a poor reaction is often indicative of the reasons someone is leaving in the first place.
It is proper to give two week's notice; if you want to leave sooner, simply ask if that is possible.

It is to the company's benefit to keep you there as long as possible.

I know of one instance where someone resigned on a Monday after lunch and the human resources person actually wanted the employee to stay for two weeks and not leave until after lunch two weeks from that day (she did not).

Some employers ask for three or four weeks.

This is only acceptable for the most senior executives who are running businesses.

The truth is that once it is over, it is over and you want to leave as soon as possible. And in many cases, the company wants you to leave as well.

Many people discover that by the middle of their second week after resigning that they have been cut out of important meetings and are only finishing projects.
If the company asks for a resignation letter it should be just two or three sentences long.

It should simply say, "This letter is to confirm what I have previously stated.

[Date] will be my last day of work.

I have enjoyed my time here, learned a lot and appreciate the opportunity which [firm name] has given me. Sincerely."

Nothing more.

However, unless they ask for such a letter, it is totally unnecessary.

I don't think that in my career, which spanned a number of agencies, I ever wrote a resignation letter. Resignation letters are sometimes requested by the company for legal reasons.
It is important to ask key executives if, in the future, you can use them as a reference. During your resignation period is the time to do that.
You always want to try to leave on good terms.