I have wanted to write this blog for a long time; I first mentioned it a few years ago in a post about interviewing. The concept of falling up in business is not my own. It belongs to the late James Michaelson. Most of you won't know him. Jim was the original new business person. He worked for Marion Harper, the founder of Interpublic, first at McCann and then at IPG. Jim went on to work for Jerry Della Femina, Ammirati & Puris and a host of other agencies. He used that description to describe a person who he had worked with and for who he did not particularly like or respect. Obviously.
But it is a great concept.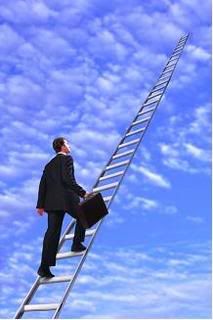 It has to do with empty suits, some of whom are highly successful, who keep climbing the ladder of success despite dubious achievements.
There are lots of people in business like this. They look good, they talk good, they manage up well. They get promoted. They take credit (sometimes due, sometimes not). They often achieve great positions.
The person who Jim Michaelson was talking about became president of a big agency. He was always in the right place at the right time. He was an account guy. When he joined each company his creative partners initially loved him, because he was trained at the right agencies, looked good and said all the right things. It always took about three to five years to discover that he was an empty suit. He rarely got fired, because that would cause bad publicity, but he was often told to look for a job.
Each successive agency was impressed with his background; he got hired because of his résumé. (I have often cautioned about simply hiring a résumé, but it happens all the time.) Each time, this executive was hired, he got a better title and more pay. Ultimately, he got found out.
Today he is out of the business.
How many people like this do you know?