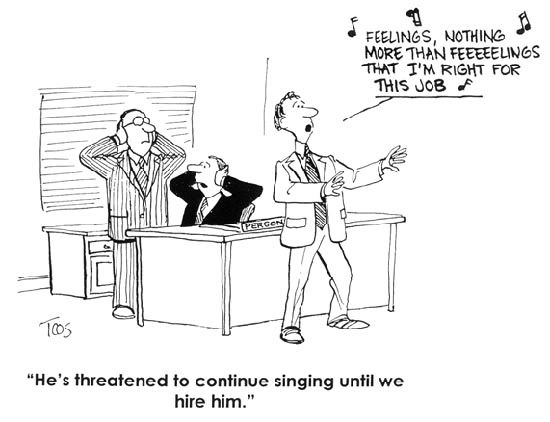 Here is the scenario: You are out of work. You have lots of experience. You have worked on multiple categories – automotive, consumer package goods, insurance, consumer electronics. You can pretty much work on anything. You hear about a job at one of your target ad agencies working on a retail bank account and you know, you absolutely are sure, it is perfect for you. But you can't get them to see you. It makes no sense to you. You hear about people they are talking to who have banking experience and you know you are better, smarter and quicker than they are. But still you cannot get in to see them.
This is an all too common situation. I have written extensively about it. It drives me nuts. But here is the reason you can't get seen. In this economy it is all too often a question of your specific skill set and experience.
Recruiters, and that includes people on my side of the business as well as those who work in human resources at a company, get paid to find the right candidate for a job. Generally, companies give us specific job specs. All too often those specifications include specific category experience. All of us are constantly barraged by résumé submissions and assaulted by candidates who believe that they are qualified and able to do a job, but who actually lack the skills to do it because they have not worked in that category.
I recently did something I rarely do – I posted a job on the Ladders for a director of finance at a very good young agency. My posting was very clear in that I had to have candidates with direct, recent ad agency experience. I received almost 200 responses. That is right, two hundred. Unfortunately, only six were from ad agency financial people. I made the mistake of responding to one very aggressive non-agency candidate and explained to him that, based on the criteria given to me by my client, he was unqualified for the job because he had no ad agency experience. I got an email lecture from him about how all accounting jobs are the same. But from firsthand experience, I know that is not true. There are peculiarities to the ad agency financial business (e.g. sales tax issues) which require prior knowledge and he simply wasn't qualified.
Besides, it doesn't matter. My job is to send candidates to my client with the backgrounds they require.
The issue is that while this candidate wanted the job and, given some training, probably could do it competently, he was not able to do it yet. Recruiters don't get hired to find people who want to do a job. We get hired to find people who can do it. Now.
Sadly, all recruiters are paid to put square pegs in square holes. That is not to say that we can't be creative and, when we know the hiring manager, we can ask them to do the interview. Every once in a while that pays off, but rarely.
I have previously posted about
why people can't go backwards
. I have also posted about the
difficulty of placing out of the box candidates
. It isn't that we don't want to place you. It is just that we can't. We are constantly getting job specifications that require category experience as one of the criteria for submitting a candidate. You know, pharmaceutical accounts only want people with pharma experience and package goods accounts only want CPG people and financial people working on financial accounts. And that is certainly not to say that a good financial account person couldn't succeed admirably on a package goods account.
One of my favorite comments on this subject was from a non-package goods person who was made an account supervisor on a major consumer package goods brand (at his current agency, of course – they would probably never have hired someone with his background from the outside). After about four months on the account he called me and said, "Okay, so now I have worked this category for four months. What is the big deal? Is this all there is?" We all know that the answer was and is, "yes", that's all there is. (Incidentally, this person is now the president of a large and successful agency.)